Do you have an older Mac version (10.5 and older) that you are not planning to update? Then you probably came across this issue with the Skype: "We have signed you out because you are using an outdated version of Skype". I found an easy solution to fix the problem. I also made a short video below. The video is low quality because I had to use my old Mac to show you this "outdated Skype version" problem.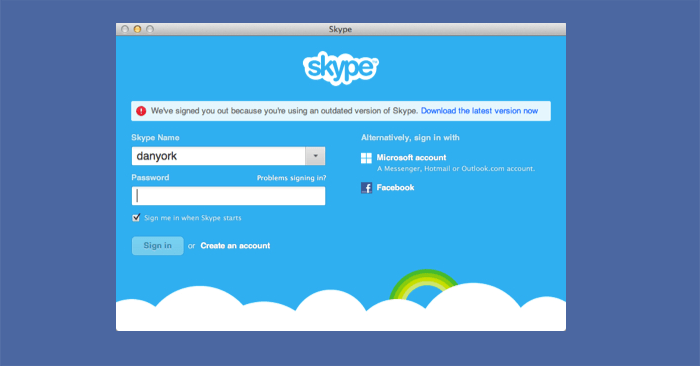 Steps To Fix The Outdated Version of Skype on Mac
In "Applications" right click on your Skype app.
Click on a "Show Package Contents"
Click "Contents"
Now right-click on a "info.plist" and "duplicate"  -> this way you will have a backup of the file
Lets open "info.plist"  so we can edit it
Look for a"CFBundle version" and change it to "6.15.0.334″
Save the file (command+s)
Open Skype and sign in
Watch Video To See How I Fixed It On My Mac
[youtube=http://youtu.be/ZhBHBAN-B7w]
Seems like Skype is forcing a software upgrade on all of us! They are pointing people to this support article about upgrading:
We want everyone to experience the best Skype has to offer – from enhanced quality to better reliability to improved security – and the newest version of Skype is the way to do that. So everyone can benefit from the latest improvements, from time to time we retire older versions of Skype across all platforms, including mobile devices. It's easy to update Skype; once you do, you'll have access to the latest features our team has worked hard to deliver.
When we retire older versions of Skype, if you are still on an older version, you would be signed out of Skype automatically and won't be able to sign in again until you upgrade to a new version. Simply follow the steps below to download, install, and sign in to the latest version, and you'll be back in Skype in no time.
Now, Your Turn
If there is another, better or faster solution please share it below.
Let me know by commenting below!